The International Conference on Men's Issues is returning to North America! ICMI 2019 will be in Chicago, Illinois, USA August 16th-18th. It will be hosted by Honey Badger Brigade! Speakers include Sargon of Akkad, Count Dankula, Paul Elam, Janice Fiamengo, Karen Straughan, Mr. Reagan and many more!

I can't attend but I want to support! (Read On!) 
Want to ensure the International Conference on Men's Issues is an astounding success, so that our self-styled ideological detractors and opponents choke on it, but you can't attend?
Fear not! You still have numerous options to support ICMI 2019 and stick it to the people who want men's issues silenced and men's rights activists to fail!
Take part in the Speaker Sponsorship Bidding War
Current Top bid: —
Want to show your support by sponsoring a speaker? Speaker sponsorships pay for speaker accomodations, catering and other amenities.
In exchange for your support you will be listed on your speaker's name badge like so: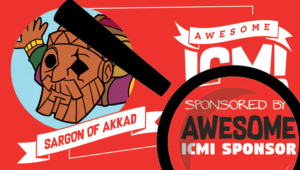 Just replace "Awesome ICMI sponsor" with your name or (tasteful)nom de plume (and if it isn't tasteful, it better be funny.)
And your speaker will receive a lovely bunch of coconuts–I mean a Chicago-themed gift basket with your note to them attached! You'll get an ICMI program book signed by them and a video message of thanks from them!
Sound good? Then place your bids! Minimum bid is 1000$, sky's the limit. Largest bid wins first choice[1], second largest wins second choice and so on. In the advent of a tie, the first bid in wins. Every bid wins a speaker to sponsor!

Sponsor a Volunteer/Delegate-in-need
This is our workhorse option, folks. If you'd like to really help the ICMI be a smashing success, help us get volunteers to assist with the operation of the event. This option pays for a ticket and accomodations for a volunteer, as well as pizza in the break room. You can also sponsor a delegate-in-need who can't attend without some financial assistance so we can fill the joint with extra bums-on-seats.
Your sponsorship will be listed on your sponsored Volunteer's or delegate-in-need's badge. Karen will sign and kiss your program book. She'll even go in drag and wear lipstick to do it. (Thank you!)
Get a Remote Ticket and put on a remote event!
Can't attend but still want to watch the shenanigans and participate in Q&A sessions? Buy an armload of snacks, get comfy on your sofa and bring your friends over to watch the fun! This year for the first time ICMI is offering remote tickets that will get you a front row seat to our event livestream in the comfort of your own home.
If you'd like your Remote event advertised to the Badger-viewing public, please send an announcement of time, place and host to this email.
Remote attendees will get access to our event app(tba), get a remote attendee lanyard, program book, t-shirt and access to the conference archive. Conference archive[2] will include behind the scenes content as well as all lectures and presentations not available on the livestream.
Sit down and be counted! Remote attendees will also have access to the livestream chat, allowing them to send in their comments during speaker Q/A.
Want some loot? 
Options for access to the conference archive, program book and t-shirt are to the left. Have fun! 😀
[1]Subject to speaker consent.
[2]Depending on feasibility, a Blue Ray of the conference archive will also be offered.
*Honey Badger Brigade Inc. is incorporated in Canada. Any funds over and above Conference expenses will go to further events and/or building Honey Badger Radio's online community.